Blitz Paintball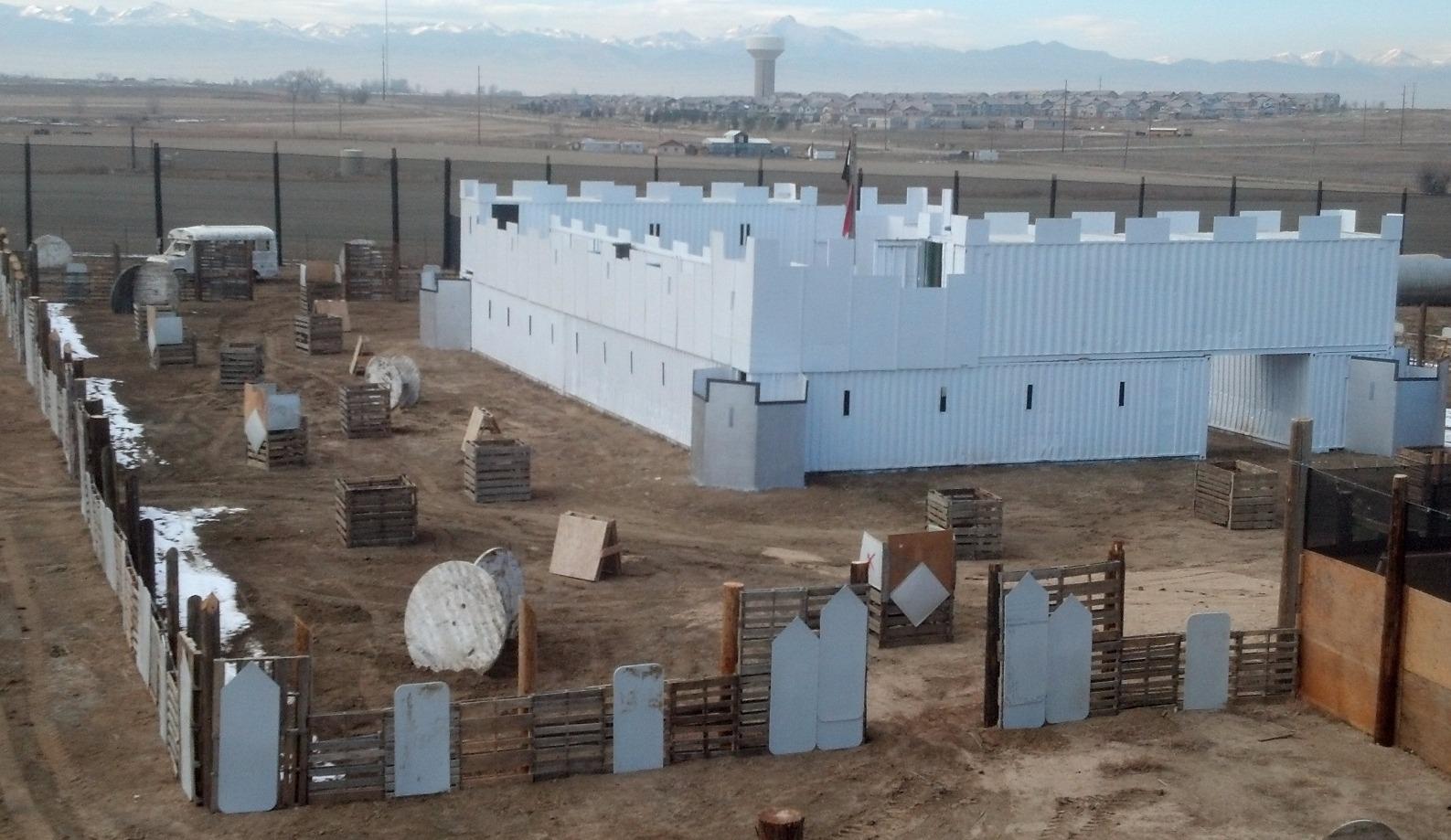 Article by Uncover Colorado… NICE!   https://www.uncovercolorado.com/blitz-paintball-denver/
Weather Closure. December 17th and 18th
Due to the extremely cold forecast for this weekend. Blitz will be closed. Sorry for any inconvenience.
Blitz Paintball will be Closed Saturday the 24th and Sunday the 25th
Wishing everyone happy holidays and New Year!
Due to the extremely bad weather forecast of rain moving to 6-12 inches of snow all day Saturday and Sunday, Blitz will be closed this Weekend 4 16-17.
Very sorry and hope to see you next time!
Due to the extremely cold weather Forecast for 12/26 and 12/27 2015 at this time we will be closed for walk on play for those days. We will post again if the forecast changes. You may still book a private reservation for those days by calling 303-337-7109 or by booking online.
Thanks and Happy Holidays!
Anniversary celebration on 5/9/15 canceled/postponed due to extreme weather forecast.
With a forecast of 90-100% chance of large amounts of rain all day long, we have had to make a hard call.
We will either reschedule the event for later this year in July (We broke ground in May but opened in July) or make the celebration next year even bigger since this year was lost.
We of course will update when the decision is made.
We will send a donation to SEAKR foundation anyway!!
Also, anyone who has already registered may still use their discounted Entry, Air and Paint for a day of play or receive a full refund. We will email you all shortly, Just contact us and let us know which you prefer!
Very sorry everyone!
5/9/15
Celebrate the 10th Anniversary of Blitz and help a great cause!!
$5 from each online registration will go to the SEAKR Foundation
What is the SEAKR Foundation?
The SEAKR Foundation is a unique, private, non-profit organization that financially supports Colorado military families whose spouse/parent has been killed or wounded in action in Iraq or Afghanistan. To date, 96% of the funds received have been distributed to military families in need.
WOW, what a 10 years it has been!! It has been an incredible experience, now lets have some fun!!!
Pre register to receive the best overall discounts for the day and support SEAKR!!
Entry, Air, 1 case of paint and lunch $55
Rental +10
Paint upgrades:
Fate +5, Graffiti +10, Redemption + 15
Everyone pre registered who has already paid will have their own lines for quick check in!
Check in will start at 10:00 am sharp!!
This will be day of Discounts, Surprise "time limited"deals that will last for 10 Min once announced as well as deals announced on individual items!. Free lunch ( 2 Hot dogs, chips and water), raffles and prizes!
During the day we will have two, massive, three-army Castle conquest, battle royals!!
Games will be 35 min to an hour long and feature 2 separate armies trying to capture the Castle held by a third…EPIC!!!
Come celebrate the 10th year of Blitz and participate in a fantastic paintball event!!!
Sponsored players, please remember that sponsored rates are good for air ball practice only and not available during special events.
https://partywirks.com/…/act…/7748/blitz_10_year_anniversary
Another weekend closed for walk on play.
We are sorry to announce that due to the extremely low temps foretasted for this weekend 2/28 – 3/1 we will be closed for walk on play.
Sorry, we hope this pattern changes soon and gives Colorado our weekends back!!
Sorry! We will see you next time.
2015 B.C.S. Event Schedule!
April 12th – 5 Man
May 17th – 3 Man
June 14th – 5 Man
July 12th – 3 Man
August 2nd – 5 Man
September 13th – 3 Man – Dynamic Autism Charity tournament!
Stay tuned for some upcoming Classification and rules changes!
I hope everyone has a great 2015 season!!!
Bring your own Paint Moves to open play Fridays. Starting 2015!
We have had to change our BYOP policy after recognizing some problems in our changing industry and enforcement issues on busy days at Blitz.
1. There has been a proliferation of "oil" based paint in Big box stores. This paint is not marked making it hard to regulate. This paint often stains and is very hard to clean and sometimes dries like gum. We cannot allow this paint.
2. Safety issues arise and we have to test all BYOP paint to allow it on the field and insure it breaks properly. This is very difficult to enforce once a player leaves the front.
3. It is about the same cost to BYOP if you pay the BYOP fee as it is to shoot our paint offering no real advantage.
4. Rampant abuse. We have often seen groups pay for a small amount of paint while refilling from paint hidden in their cars. Since we were allowing BYOP it was very difficult to regulate since there are multiple colors being shot and abuse of the system is not easy to see.
5. Only 4% of our customers paid to BYOP making the enforcement of the policy cost prohibitive.
We wish to continue to offer BYOP for those customers but we will now do this in the far more controlled environment of walk on Fridays where we will have the ability to properly inspect and regulate the paint. We are sorry for any inconvenience this may cause but believe this will help customers have an overall better and safer experience on the weekends.
Moving forward in 2015, Blitz paintball Shell colors and fill colors from our manufacture'r will be protected so we will quickly be able to identify outside paint.
Please read the rules below.
BYOP $25 – Open play Fridays only ( Fridays from Memorial day – Labor Day "June-August") There is no BYOP at any other time!
BYOP RULES = No oil based paints. You must use your own gun. You may not bring red or pink paint. All BYOP paint must be tested at the front to insure proper break-ability, must not stain and must be a 100% PEG ball (No Oil based paints such as Stinger, Infinity and many other brands). This means most of the very cheap Paintball's you find in Box stores. Many of these paints are Vegetable/Fish oil and are not allowed at Blitz.
4/15
5th Annual Easter Egg hunt!!! Easter Sunday!
It is time again for what has become a Easter tradition for many players and families!!
We hide over 160 plastic eggs all over Blitz Paintball, every one has a prize in it!!
Prizes range from lanyards and posters, grenades, free entries and Bags of paint, to a couple Masks, Hoppers, and Tanks and sometimes players find a egg that wins a marker as well!!
With tons of prizes, come out and search for your share!!
If you have never done this, come see why the Easter Egg hunt at the Blitz has become such a favorite… nothing beats watching players try to rush out under fire to grab an Egg the see..LOL. 
See you Easter Sunday!! The action begins at 10:00 AM!!
4/9/14
BIO-HAZARD UPDATE!!!
Check out your leadership for the event!!
Crabs (Aliens):
General – Andy Potter (Valken Sports, formerly with EMR and Blues Crew)
Captain of Special Ops: Guy Cooper (Prostar Sports, Field owners bible, paintball history museum)
Humans:
General – Jim May (Blitz Paintball)
Captain of Special Ops: Eathen Hall (Hustle Paintball)
Their will be Teleporting and explosive Aliens!! Their will be rocket attacks, Artillery, …….and even a possible Nuclear strike!!
Registration is open, their will be thousands in prizes awarded for both great play and free raffles for registered participants only!!!!
Remember $15 per registered participant goes to wounded warrior project, support a great cause!!
Check in will start promptly at 9 AM
You can call 303-337-7109, hit the Book now button on Facebook or the reserve now button on our website and go to "special events and tournaments to register!
Join Bio-Hazard Invasion now!!
1 Day Scenario Event
$75 Covers:
Entry
Semi Auto Rental if needed ( non transferable)
All Day Air
1 2000 round Case of Paint
2 hot dogs, bag of chips and a water
$85 to join the day of the event.
Preregistration is open for the April 6th 5 man. You can register online by hitting the reserve now button and then click special event and tournament registration. Scroll down and select the B.C.S. April 6th 5 man. Then follow the instructions! Or you can call 303-337-7109 and register your Team. This year you have untill 3 days prior to receive preregistration price. The remaining few days the price goes up. Registration ends at 5 PM sharp,  Saturday April 5th. Online registration ends 3 days prior to the event.

Blitz Paintball  2014 Calendar of Paintball events!!
4/6 B.C.S. 5 Man
5/4 B.C.S. 3 Man
5/18 Bio hazard – Invasion / Scenario event
6/1 B.C.S. 5 Man
7/13 B.C.S. 3 Man
7/19 Hustle Paintball hosted Mag fed event – Scenario Event
8/3 B.C.S. 5 Man
8/31 B.C.S. 5 Man – Dynamic Autism Charity Tournament @ Blitz
Also keep your eye out for the Colorado Summer Scenario events which both the Scenarios at Blitz are part of.
This will give the scenario enthusiast 1 event a month at local Colorado fields! 
Here is tentative schedule, dates and name subject to change.
5/18 Bio Hazard @ Blitz
6/7 D-Day Dynamic Paintball & Airsoft
7/19 Hustle Mag Fed
8/16 PBA (to be announced)
9/20  Red Dawn @ A.P.C.
Airsoft
New policies for 2014
Check out our new Airsoft flat rate of $15!!
 The inside of all buildings on the Military base field (the main field for Airsoft play) will be power washed this spring to keep it clean for Airsoft!
WALK ON PLAY!!
You can always make an Airsoft reservation, however now Blitz will have Airsoft walk on play days!!! Just show up and Play!!
The following Dates will have Airsoft Walk on:
Every Friday from Memorial day to the 3rd Friday of August and the following Sundays:
3/16/14 – 4/13/14 – 5/25/14 – 6/22/14 – 7/20/14 – 8/10/14 – 9/14/14
September 5th, 6th, 7th 2014
New Schedule of Tournaments at Blitz Paintball in 2014!!
B.C.S
April 6th 5 Man
May 4th 3 Man
June 1st 5 Man
July 13th 3 Man
August 3rd 5 Man
August 31st 5 Man Dynamic Autism Charity Tournament
( Changing to 5 Man will give the teams a perfect practice on APL fields the week before the event!!)
APL
Mile High Open
September 5th, 6th, 7th 2014
Lets have an INCREDIBLE tournament season!!
12/11/2013
Look out Scenario Players, looks like there will be 1 scenario game hosted by your local paintball fields/organization per month from May through September in 2014!!
Blitz in May, Dynamic in June, Hustle in July, PBA in August, APC in September!!
Keep it local and play the whole series!!
Here is ours!!
Coming May 18 2014!  Generals and commanders to be announced later!!
WARNING: BIO-HAZARD INVASION
Sunday, May 18th 2014
$15 from each registered participant will be donated to the Wounded Warrior Project!! A great cause, get involved!! Have a great time and help our wounded Veterans!!
Everyone thought that if there was ever an alien invasion, they would come by ship and lay waste to the Earth.
No one suspected the reality. The greatest threat to mankind would be alien in nature but microscopic.
They had visited our planet before, when mankind was young. The conditions on the earth were not suitable for colonization. They returned to their home world to start the planetary reformation process. They have developed a process that is highly successful and has been used many times in their past. They developed a virus to reform the earth into something more comfortable by using its most intelligent and adaptable mammal. The Virus design is highly contagious, supplanting Human DNA with a alien Human hybrid. Turning Human Beings into loyal subjects, programed to convert or destroy the rest of the Human population and then engineer planetary and atmospheric reformation. They lunched the virus thousands of years ago, then moved to the next step in their process.
It began in early 2014. When the microscopic alien spores started falling through Earths atmosphere. Most spores perished, however the remaining amount infected people all over the world. The infection spread easily through much of the population. Before we knew what hit us, 50% of the population was alien. Yet many of us, if not nearly half, had a natural resistance. Not immune but much harder to infect and subvert.
The alien/Human hybrids organized and attacked. Forcibly infecting the resistant population and killing those who resisted to strongly. We are now fighting back!
By taking prisoners, we have learned the following:
Everything you have read above.
The Aliens are amphibious creatures with a thick exoskeleton whose body resembles a large arachnid, they can communicate through pheromones and sound waves, math, music and many other methods.
Humans cannot form their words, so we just call them "Crabs" … Seems to upset the Hybrids.
The Hybrids retain human form and functionality, but have a thick layer of hardened skin, yellow eyes and poor hygiene.
However, there was a miscalculation by the invaders. They believed man would still be tribal hunters and gatherers making the conversion process simple. They did not account for the massive advances Human's had achieved in the time between their visit and the arrival of the spores.
Now, the battle for the Earth is joined.
Aliens trying to infect or kill the remaining humans.
Humans desperately fighting and looking for a cure!
WHAT SIDE WILL YOU BE ON?!
There will be raffles for great prizes, prizes and awards for fantastic performing players and teams!!
$15 from each registered participant will be donated to the Wounded Warrior Project!! A great cause, get involved!! Have a great time and help our wounded Veterans!!
12/5/13
Blitz will be closed this weekend 7/8 of December 2013 due to the cold weather. Remember if it is under 32 degrees Blitz Paintball Inc. does not open.
See you when we get some warmer temps!!
11/25/2013
We have several new services coming up, so we will announce what they are individually and also remind you about them when they launch!
Upcoming added service.
Online reservation system!
Do you want to make a reservation? Have a Birthday party? You will be able to book your reservation and pay your deposit, as well as purchase additional services such as mask and marker upgrades online! Book any time, no need to call. Also reservations will be available on the weekends. That way we know when you are coming and can streamline the check in process! Saving you as well as all the walk on customers time!!
Upcoming added service:
Retail store and extra paint cash register!
No line to buy extra products after check in. Upcoming this year!! We know how frustrating it an be when you are already checked in and want a pair of gloves or some extra paint but right before you walked up a rush of players checking in happens. Now we will have a 4th dedicated cash register to check in players buying additional items! Making it fast and easy!!
Upcoming New Service:
Express Check In with Blitz Membership!!
Do you ever want to just skip the check in line?
Now you can!!
To become a Blitz member, you fill out your waiver. Then go through orientation and are issued a Blitz member ID card good for the calendar year. They expire December 31st. The Cost is $2 for the Membership.
Once this is done you will be able to visit us online, pay your entrance fee plus a $1 express check in fee and purchase everything you need for an upcoming trip to the Blitz. By paying in advance, when you show up, you will go to express check in. Show your Id along with a second form of ID. Pick up your wristband and paint and you are ready to play!!
NO LINE AT ALL!! Just show up and play!!
This card will be used to represent your waiver and you will have a cash register line that takes Id card members and reservations 1st as well. However, nothing beats skipping lines completely!!
11/12/13
Air ball fields are done for the season and should reopen in March. Remember, all other play zones remain open.
10/18/13
Halloween Special!!!
Celebrate all hallows eve at Blitz Paintball Inc. on either of the next two weekends!!
Anyone showing up in *costume to play on October 26th or 27th as well as November 2nd and 3rd will receive :
50% off entry and 50% off rental for 2 players
1 free Paint Grenade!!
* Tactical (looking like a soldier) and tournament paintball gear does not qualify as a costume since it is what we wear all the time. In example, don't show up as a piantball player. Legit costumes please!!
Offer not Valid with other specials, coupons or sponsorships. Valid for dates listed only, weather permitting.
9/9/13
Registration is now open for the September 22nd 3 man B.C.S./ Dynamic Paintball Autism Charity tournament!! This is the last B.C.S. of the year! Come out and get your game on for a great cause!!! Registration ends 9/21 at 6 PM!! Call 303-337-7109 to register your team!!!
8/2/13
Problem solved .. all registrations were recovered.
Dynasty Clinic Registrations.
Due to a mistake we have lost the 1st 11 registrations. Just so there is no confusion, you do not pay until the morning of the Clinic. The registration is to hold your position. If you have registered for this event please call 303-337-7109 to confirm your spot and make sure we have you listed!!
sorry for the error!
Thank you
6/24/13
Dynasty Returns!!
August 24th and 25th!
Yoshio Rau and Brandon Short of San Diego Dynasty will be hosting an advanced skill and tactics clinic at the Blitz!!! The Dynasty clinic showed us that clinics can help take Colorado tournament players to the next level!  The clinic was incredible and even advanced players learned how to improve their play. It focused on how to fundamentally make your individual skills and gun fighting better. This Clinic will address field awareness, what move to make and why, when to move, communication, team tactics, playing in front and behind teammates, as well as other more advanced player skills!!!  In football, coaches teach fundamentals throughout a player's career to insure they stay sharp, but they also must coach/teach all the plays!!! The better the players understand the play, the stronger the play becomes!! The last clinic was the fundamentals, this clinic is the plays!!
This clinic will have a 40 person cap so be sure to register early!!
$220 covers entry, air, 2 cases of paint, and lunch both days!!
Additional paint is at the $37 (tax included) team sponsored price.
You will receive personal instruction from two of the best players in the world for less than $70 dollars per day once you remove the cost of paint and lunch!! They have already won two PSP events this year as well as a 2nd in the Chicago open!! They are well on their way to another world championship! Dynasty has the most Professional wins in the history of paintball!!!  Learn from the best players, on the best fields in the Rocky Mountain region, for a fantastic price!
Call 303-337-7109 to register
5/10/13
Grand Opening weekend!!
May 18th and 19th, come out and see us.
We will open the military field!!
All attendees will receive a ticket for a free lunch ( 2 hot dogs ) both days.
Also there will be random giveaways all weekend long!!
4/23/12
New air-ball Fields are on the way!!!
In honor of the 2 main sponsors of Blitz Championship Series, Planet Eclipse and Valken, Blitz is proud to announce that we will be installing 2 new air-ball fields!! A grey and black Valken PSP Pro series field with the NPPL Kit and a white and black Planet Eclipse PSP Pro series field!
We normally have fields on a 2 year rotation and we just purchase the upgrades. However, since our Grand opening weekend is coming up we decided to go for broke and replace both of them. Brand new Bunkers on our brand new fields.
Enjoy!
Blitz Grand Opening Weekend
---
Letting everyone know that the grand opening weekend will be May 17th 18th and 19th.
The Military Field will be open!!
Friday – Staff members/ Team Members, their families and friends. Also Owners and staff members of all other paintball establishments (stores and fields) are welcome on Friday for a private appreciation day.
We will post closer to the date with a BIG discount for PB Nation members, just print the thread.
We will do a Blitz Blast with Discounts for Both days for all Blitz Blast Members
Also we will post a coupon on Facebook!! Make sure to visit and like us!
All participants will also receive a free lunch!!
There will be several giveaways!!!
Also the Dynasty Clinic will be held Saturday and Sunday!!
Hope to see everyone there!!
3/23/13
4th annual Easter egg hunt!! @ Blitz
---
Many of you have done this before and it is always a great day!!Come out this coming  Sunday and enjoy Blitz Paintball's annual Easter Egg hunt. We hide plastic Easter eggs all over the field with prizes inside!!! Prizes include, free entry, bags of paint, thirsts, squeegees, Jerseys, Pants, Tanks, and even a Alpha Black Marker!!!SEE YOU THERE!!!
3/19/13
The Clinic is sold out
Join the
Blitz Paintball is planning our grand opening in mid May. We have been at a loss for what to do for our tourney players.
After all, we just installed 2 of the finest tournament fields on earth. What more could we do?
Then we thought, "Why not hire the team with more professional wins than any team in paintball history, to host a clinic for our players!!
While we are at it, lets bring in founding member and highly respected Ryan Greenspan as well as the incredible Yosh Rau!!"
To celebrate our Grand Opening, you get the chance to learn from the very best!!! On one  of the best tournament fields in paintball!! Then we decided, lets do it for a awesomely low price!!
Blitz paintball is proud to announce that Ryan Greenspan and Yosh Rau will be holding a Dynasty Clinic!!
The Clinic Lasts 2 days , May 18th ,19th
Clinic Price is $175
Includes:
lunch both days
1 case of paint
T-Shirt
Giveaways at the Clinic
The number of participants will be limited to 40 in order to insure plenty of
1 on 1 time for all attendees.
RSVP as early as possible as this will sell out!!
Additional clinic paint @ 32/37/40 depending on grade !!
Blitz Paintball
303-337-7109
The clinic is sold out
3/4/13
Unfortunately, the forecast has it at 38 degrees and snow both Saturday, and Sunday. March 9th-10th.
So the new hopeful Airball opening date is the weekend of the 16th and 17th
2/16/13
Weather permitting, we will open both  Airball fields to the public Saturday and Sunday march 9th and 10th at 12:00 noon each day. No play until 12:00 on fields to insure the temperature is high enough for the Bunkers.  This should change to normal operation by Mid March. Thank you
1/19/13
---
April 2011
Planet Eclipse has increased its sponsorship of the Blitz Championship Series and other local events around the country!!! Traditionally Planet would send prizes, now we have the additional option of Planet eclipse coupons. The coupons will be offerd as added prizes in rookie division. We will also be offering them to open class !! Blitz Paintball strongly believes in the quality of Planet Eclipse Products!!
Open class teams will be able to increase the size of our already large prizes if they choose eclipse coupons!! If you win an open class event, and the prize is $1000 cash, you will be able to choose Planet Eclipse Coupons in the amount of $2000. These Coupons are good for anything at Planet!! This DOUBLES THE SIZE OF THE PRIZE MONEY!!   THANKS PLANET ECLIPSE!!!!!!